donkyFliP's Pink Floyd Solo RoLO Collection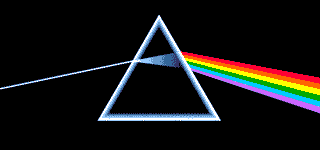 ---
Which One's Pink? Syd - Dave - Nick - Roger - Rick

---
What is a RoLO?
RoLOs are Recordings of Legitimate Origins. That means, a record company legitimately released these items into the commercial market. These items are not to be duplicated due to copyright protection. I respect copyright laws, so do DO NOT even think about asking me to make copies of these items. Instead, just go to your local record/cd/tape store and order or purchase a copy for yourself. THANKS . . .
If you do not believe me, read this . . .
---
The list below contains the Pink Floyd Solo recordings that I have in my collection.

You can also connect to other pages in this site:

|*| Pink Floyd RoIO Material |*| RoLO Material |*| Radio Interviews |*| Trance Remix Material |*|The Video Vault |*| Other Band's Live Recordings |*|
---
SOLO RoLOs - Recordings of Legitimate Origins
This listing is current as of: January 15, 1998

= Vinyl

= Compact Disc

= Cassette

= Video

= DVD
---
Syd Barrett:
Crazy Diamonds Box Set (1993)


The Madcap Laughs (1970)

Barrett (1970)

Opel (1988)


The Peel Session (1988)

---
David Gilmour:
David Gilmour (1978)

About Face (1984)

Blue Light (1984) - extended & instrumental versions - 12" Single

Lie for a Lie (1985) - 12" Single

---
Nick Mason:
Fictitious Sports (1981)

Mason + Fenn (1985)

Lie for a Lie (1985) - 12" Single

---
Roger Waters:
Music from The Body (1970)

Pros and Cons of Hitch Hiking (1984)

When the Wind Blows (1986)

Radio K.A.O.S. (1987)

Radio K.A.O.S. Video EP (1987)

The Berlin Wall Live (1990)

Amused to Death (1992)

What God Wants Video EP (1992)
---
Richard Wright:
Wet Dream (1978)

Zee - Identity (1984)

Broken China (1997)

---
Press HERE to return to top of this list
---
For more information regarding any of the items mentioned above, please feel free to contact me at my e-mail address Scott "donkyFliP" Johnston . You can also obtain more information, including reviews by other Echoesians, from the RoIO_LP, RoIO_CD, and RoLO databases at echoeserv@fawnya.tcsi.com. or you can visit Herwig's Roio Database.